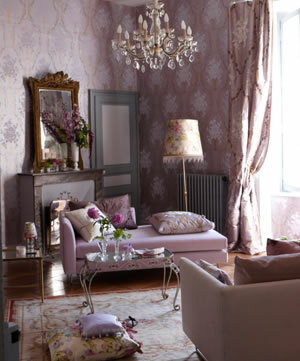 Wallpaper has been around for thousands of years in one form or another. In the late 17th and early 18th centuries, Louis XVI had a profound impact on the wallpaper industry, and his influence can still be seen today. The wallpaper of the time highlighted both Rococo and Baroque designs. They both featured Louis XVI style with elaborate ornamental and decorative accents. Where Baroque is dramatic and heavy, Rococo is light, airy, and decorative.
In the past couple of years, it's been looking like designer wallpaper is poised for a comeback. As more and more homeowners include wallpaper as an element in their home decorating plans, trends emerge.
French Wallpaper Designs and Textures
Textured wallpapers are not new, but embossed designs, wood or brick textures, faux bamboo, and even delightfully smooth and satiny designer wallpaper with French cultural influence change what people think about surface texture. Textured wallpaper gives your walls a novel tactile sensation, and some surfaces feature a unique 3D effect.
Gradients
Most wallpaper has a more or less consistent repeating pattern, but not always. Many modern wallpaper designs incorporate ombre or gradients that let colors on your walls change and shift from floor to ceiling. Sometimes this effect is subtle, but other designer wallpaper includes transitions between bold colors that stand out. These can be a creative way to accent specific colors in your décor or direct attention to key pieces of furniture.