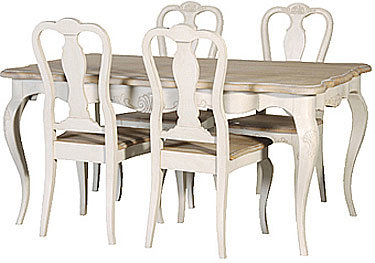 Elegance and the style of the French go hand in hand. It's not possible to picture one without the other. These two come together in a concrete way with French Country dining tables, just like the ones we offer at French Country Furniture USA.
What you get with these pieces is casual elegance, and although this appears at first glance to be an oxymoron, it is in fact a dazzling reality that comes to life in the dining sets that follow this design trend. It is not an arranged marriage with an undercurrent of conflict though. It's a match made in heaven with a flair that harkens back to the days when dining was a passion and a moment to be shared with family and the closest of friends.
French Country dining tables, chairs, and accessories showcase a blend of disparate elements that shouldn't work well together, but do. Picture the blending of traditional classic styles coming together with distressed or antiqued finishes and you will see what we mean.
This partnership of styles results in pieces that ring with the echoes of the palace of Versailles or a dramatic chateau while also offering the relaxed comfort of modern design.